During the hot summer days, an outdoor shower is a blessing, and you owe it to yourself to just give in to this delight.
The simplest solution to achieve this is to turn to the hose you usually use for watering your plants.All you have to do is to find a private spot and hook the hose to a tree branch after you have mounted a shower head. That's it! Because we are talking about cold water here, your summer delight won't last very long, therefore you don't need to worry too much about the water drain system. A layer of gravel will be sufficient to ensure a satisfactory drainage.
If you find the hose option
a bit primitive, you'd better arm yourself with patience and imagination to create something more sophisticated. You have to start choosing the right spot. 1.2 square yards will be enough but we suggest, if the space allows it, to not limit yourself to that. Things you mustn't overlook: draining, waterproofing and, very important, privacy.
One simple and inexpensive solution is the bamboo shower. Build a semi-circular structure using bamboo sticks. Because this type of wood is very light, you will need to anchor it to a supporting system (i.e. poles made from another type of wood).Your roof can be bamboo-made as well, as it is able to sustain without any problems a solar panel or climbing plants for a more lush look. You can connect the outdoor shower drainage to the main sewer your house is using. However, if you are not a plumber, we recommend hiring one for this task, rather than pulling a DIY. Talking about plumbers, always remember to empty the pipes before the cold season, to protect them from frost.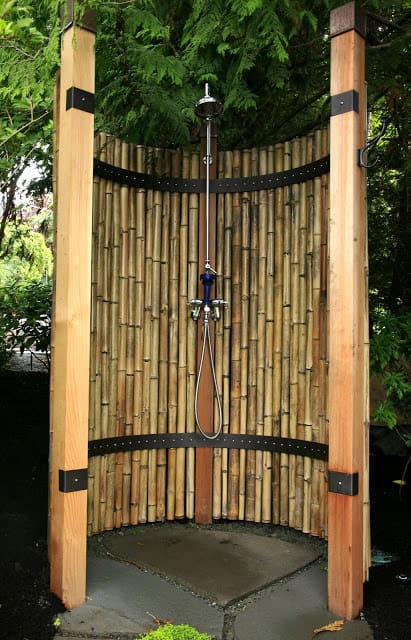 If you want your shower to be more durable, you can keep the bamboo structure, but reinforce it with stone mid-way, as you can see in the image below.
Don't overlook the shower floor. Whether you choose to make it out of wood, tile or mosaic, make sure it's, above all, safe and comfortable.
Rediscover the simple joys of life by spoiling yourself with a shower in the garden.
photos via Pinterest