To enjoy the beauty of the garden you carefully decorated even more, during summertime, you could create a small pond right in the heart of it and perhaps populate it with some colorful fish.
There is a really easy way to do that. First of all, you need to find a large recipient that's able to contain water. For instance, a nice looking bucket will do just fine. However, please keep in mind that such objects, if made of copper or zing, don't make a good environment for fish. Once you found this recipient, clean it thoroughly so there are no toxic substances left and make sure it is deep enough to host
the little fellows. Remember, water evaporates, so, if the pot is not deep enough, it may dry out pretty quickly. After settling these small – yet very important – details, you are ready to go buy the small inhabitants. Add some plants that will both decorate and oxygenate the water and, to make your job a lot easier, purchase an aquarium pump as well.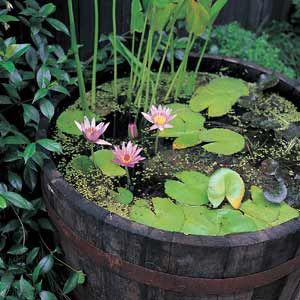 You will get a more spectacular pond if you are willing to go the extra mile, with a little imagination and some hard work. First of all, find a place that's not too shady; plants and fish love bathing in the sun. After that, start digging and keep in mind you need at least 30 inches in depth to prevent evaporation during summer and frosting during winter.
Here are some really simple steps for you to follow:
1. Use a garden hose to trace the pond's shape.
2. Dig the hole 10 inches deeper than the desired final depth.
3. Shape a well on the bottom, another 10 inches in depth. This is where you're going to place the pump.
4. Remove all roots and stones.
5. Apply a thick layer of sand (2-3 inches).
6. Apply a plastic foil above the sand.
7. Cover everything with 5-6 inches of clay soil.
8. Start filling it with water.
9. When the water level reached 1/2, place plants and rocks to serve as borders.
10. Make sure you mask the foil with rocks and vegetation.
In the end, you should have something like this: