Are backyard surveillance systems truly necessary?
Your efforts in having a beautiful garden are starting to show, so it's time to talk a little about protecting it from uninvited guests. And how else if not by using a backyard surveillance system?
Why is it necessary?
To discourage any attempt before it actually occurs. Cameras mounted in plain sight will discourage any potential offenders and the chances that they will act will decrease considerably.
For remote monitoring the back and front yard and, most important, the area in the immediate vicinity of the house.
If a felony does happen, you will have all the material to help the Police identify the offenders.
For

your peace of mind. We assure you, you will be more comfortable knowing that your house is permanently watched, even though it's just a camera.
How to choose the surveillance system?
Many people start by choosing the cameras, but this is not the correct approach. You need to start by choosing the appropriate storage unit, because that's the one that will provide you the information, if you want quality. Your best choice would be a DVR. A capture card installed into a computer will do fine on storing and playing recordings, but a DVR (standalone unit) is much more stable, performant and efficient.
Once you have chosen the storage unit, you can move along to the camera selection. First of all, you have to take into consideration that they will have to work in pretty harsh conditions (extreme heat or cold, rain, snow etc.) and, sometimes, in places either dark or dimly lit. These cameras are marked with an IP (Ingress Protection), which is an international standard, and they all fall into a certain class of protection against dust and moisture. IP 66 indicates complete protection against dust and a very good one against large amounts of water. The absence of light in the watched places can be solved with an infrared camera.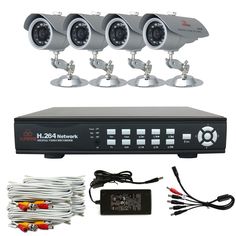 When it comes to installing the surveillance system, there are some things you should keep in mind. Always use quality cables and connectors (copper cables, avoid aluminum and aluminum alloys), and if you want to put up a wireless system take into account any obstacles that might impede wave propagation.